2019-2023 PREDICTION 76% CROP LOSS
VOLCANOES & ASTRONOMICAL PATTERNS
IS DIABLO CANYON
NUCLEAR PLANT
EARTHQUAKE-PROOF?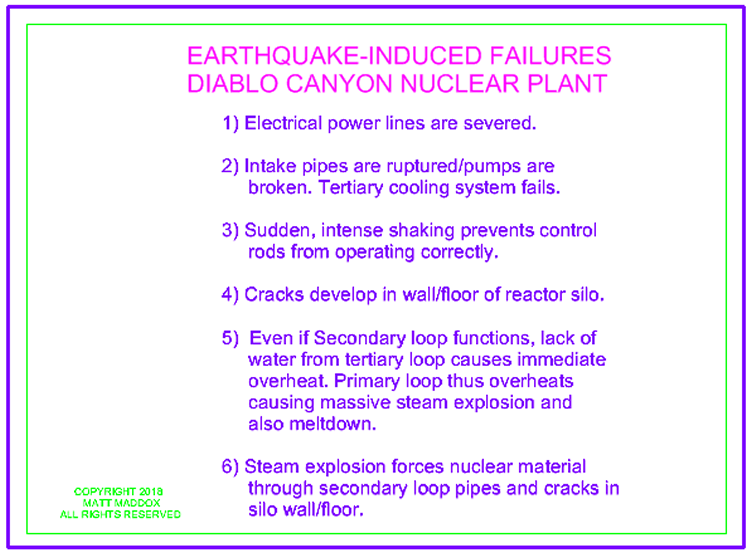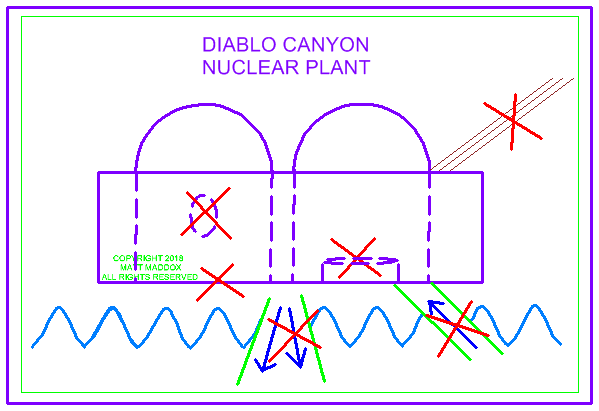 In a major earthquake Diablo Canyon Nuclear
Plant is vulnerable at numerous points:
1) Electrical power will be severed
2) Control rods in core will not function with sudden
intense shock
3) Cracks will develop in the core silos since there
are 3 faults in immediate vicinity
4) Shaking will disrupt turbine operation resulting
in secondary loop failure.
5) 30" Water pipes were ruptured during 1906 San
Francisco earthquake. Both intake and discharge
pipes will be ruptured in next major quake
resulting in Tertiary loop failure. No coolant will
be entering the plant.
6) 50-year cleanup/claim cost will be 1/2-1T$'s out
of US Federal budget. Please compare Fukushima
total cost.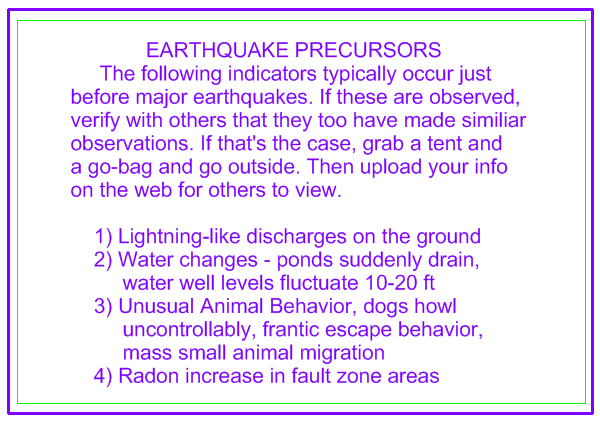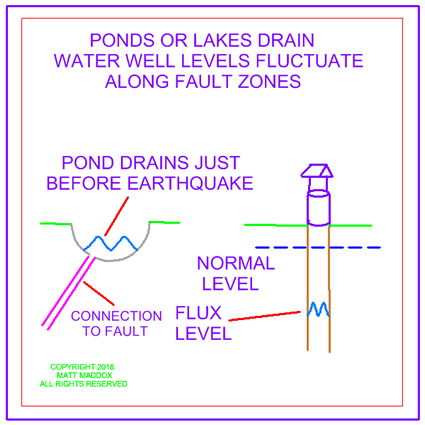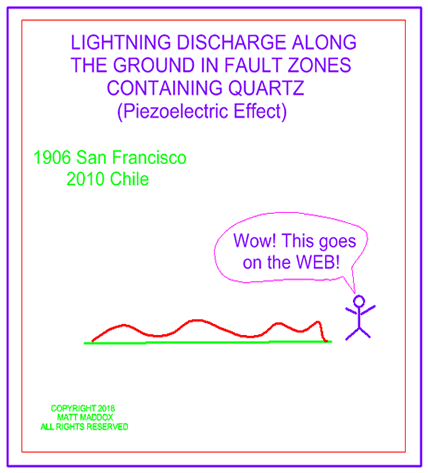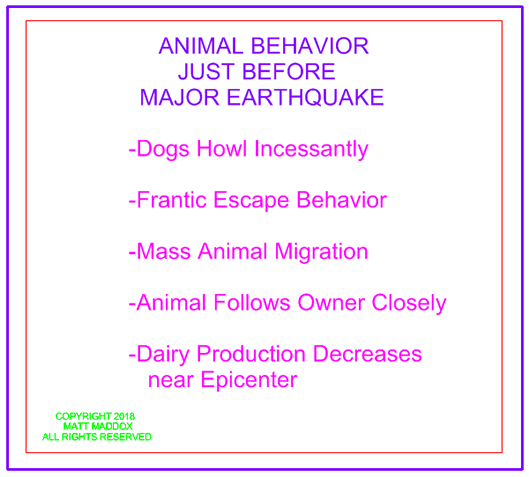 Earthquake Precursors
Indicators of an impending earthquake
If these events are observed, plese contact
Matt Maddox immediately on Facebook
1) Lightning-like discharges on the ground in fault areas
2) Water changes: a) Ponds or lakes which suddenly drain
b) Water wells suddenly fluctuate up or down 10-20 ft,
c) Water becomes cloudy, has bubbles, smells sulfur-like, changes temperature
3) Animal Behavior
Unusual or bizarre animal behavior: a) Dogs howl uncontrollably, b) Cats move their kittens outdoors,
c) Predator acts subdued in the immediate vicinity of prey,
d) Dairy Animals- Milk production decreases significantly e)Marine- deep water species show up in shallow water
Frantic Escape Behavior: a) Horse kicking a hole in stall door, b) Pig jumping over a fence, c) Fish jump out of water, d) Mass migration of animals- snakes, rats, centipedes, worms, beetles, frogs
4) Radon increase in fault zone areas
5) Changes in plants- unusual winter blooming
6) Foreshocks- smaller earthquakes -check latest earthquakes USGS website- 2.5M+ or 4.5M+ for a given area
Some of the above info can be found in "When Snakes Awake-Animals and Earthquake Prediction" by Helmut Tributsch, MIT Press c1982-That author is not responsible for my predictions.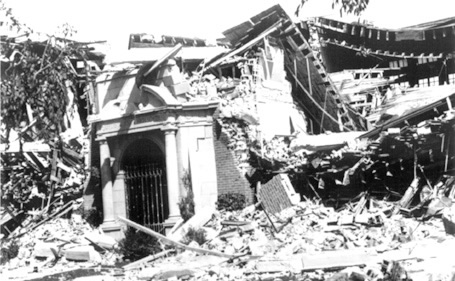 Jefferson Junior High School in Long Beach, California,
destroyed by the March 11, 1933 earthquake USGS Photo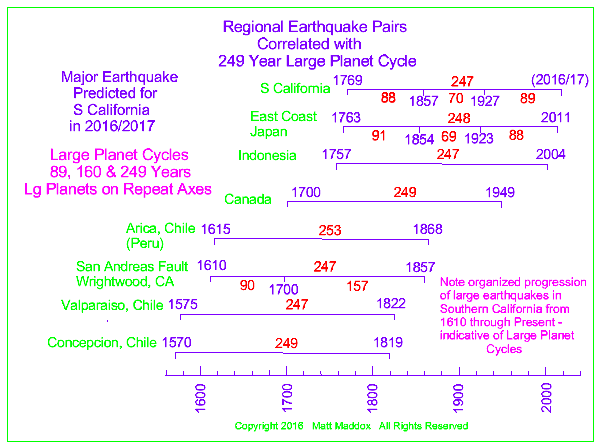 SOUTHERN CALIFORNIA EARTHQUAKE
Predicted 2016-2017
Uploaded 07/14/2016
0008 UTC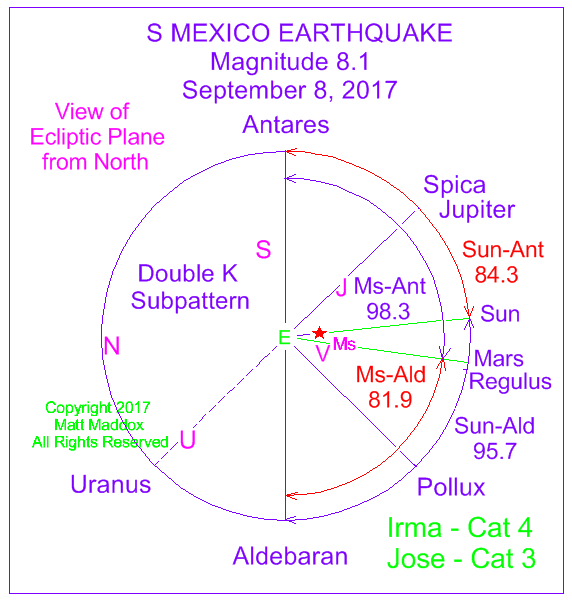 S MEXICO EARTHQUAKE - M 8.1
IRMA CATEGORY 4, JOSE CATEGORY 3
September 8, 2017
Note the clear Double K subpattern connected with this Great Earthquake and two simultaneous hurricanes. The Earth-Spica axis is reinforced with Jupiter and Uranus. The
Earth-Regulus axis is reinforced with both Mercury (not shown) and Mars.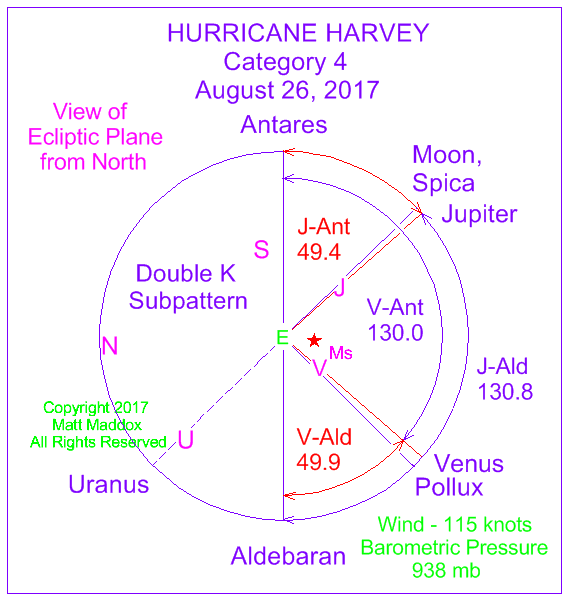 HURRICANE HARVEY
Category 4
August 26, 2017
Note the obvious Double K feature associated with this wind & weather event. The Moon, by virtue of a precise alignment with Spica, reinforced the stellar K composed of Antares, Aldebaran, Spica and Pollux. Please see Katrina midpage for a comparison on Tropical Storms page.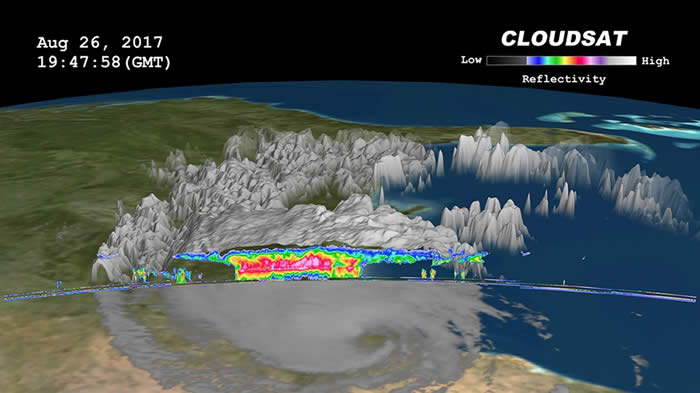 Harvey 2017-08-26 19:45 UTC NASA-JPL-Caltech-CIRA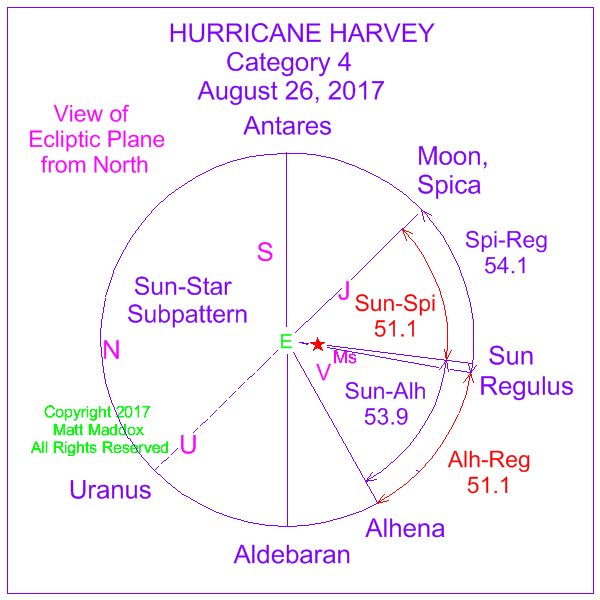 HURRICANE HARVEY
Periodic Symmetric Astronomical Pattern
This is an annual Sun-Star symmetric pattern which occurs just after the Sun passes Regulus about August 23 each year. But other objects also pass this point on a regular basis, and, when they do, trigger various geophysical events.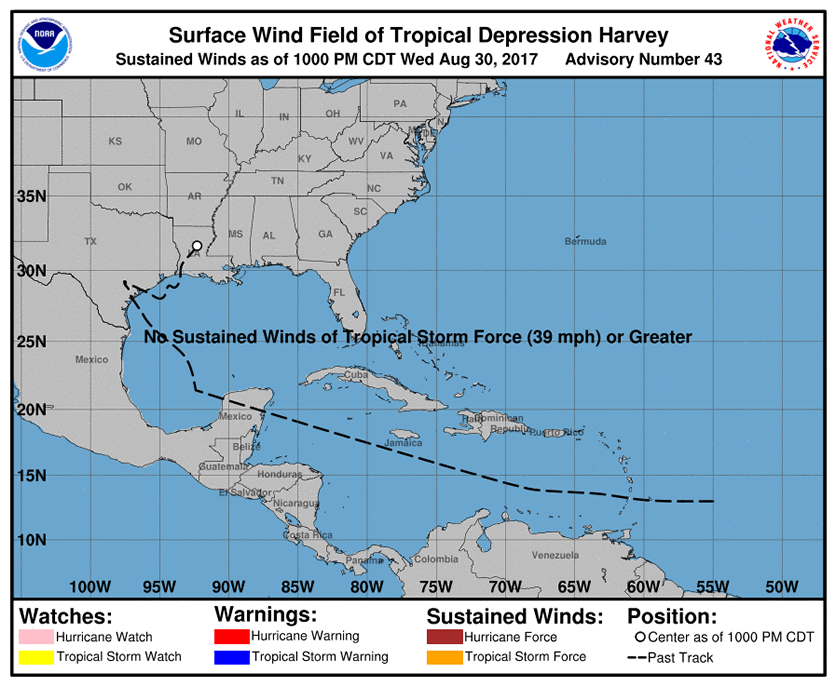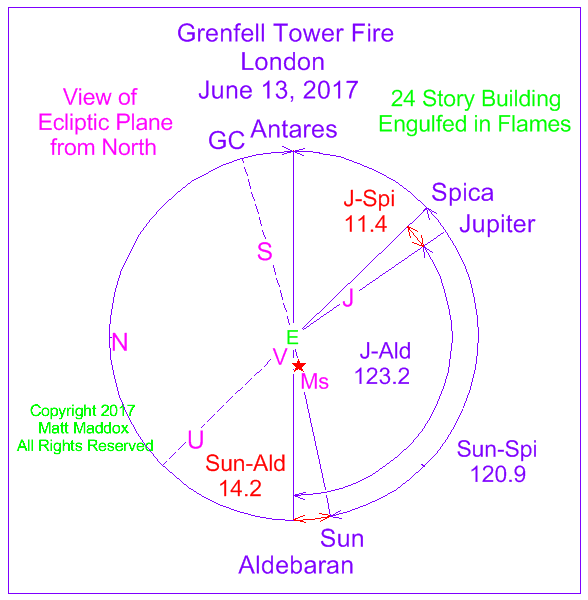 GRENFELL TOWER FIRE - LONDON
June 13, 2017
Please note that there were 8 bodies on 4 symmetric axes associated with this horrendous event.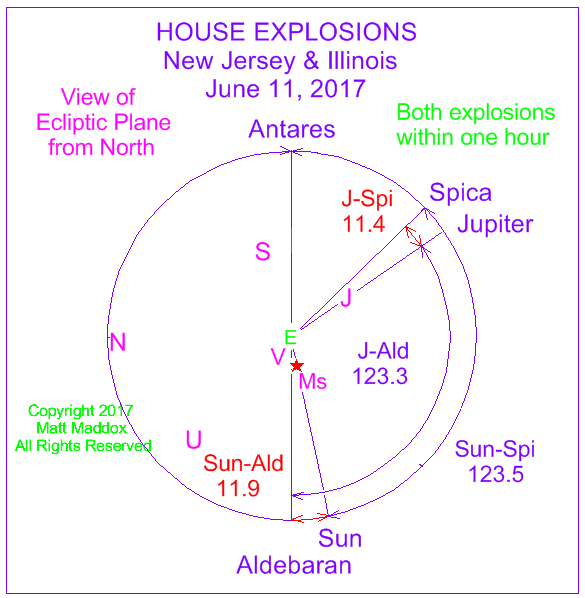 DOUBLE JET ENGINE FAILURE, PLANE CRASH,
HOLE IN JET ENGINE CASING, SINKHOLE,
MN STORM, TWO HOUSE EXPLOSIONS
June 10-11, 2017
Note the simple yet powerful subpattern composed of Sun, Jupiter, Aldebaran and Spica. Aldebaran-Spica triads or tetrads are commonly associated with weather and sometimes with electrical events.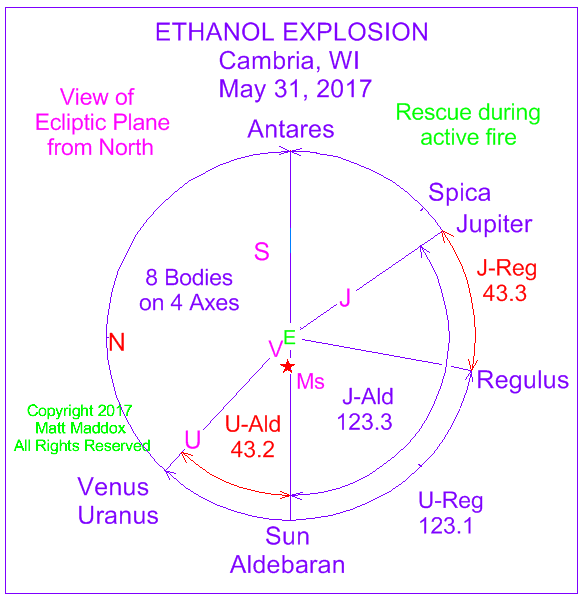 CORN MILL EXPLOSION MAY 31, 2017
Cambria, Wisconsin
Note that there were actually eight bodies distributed over four axes in this Wisconsin ethanol explosion.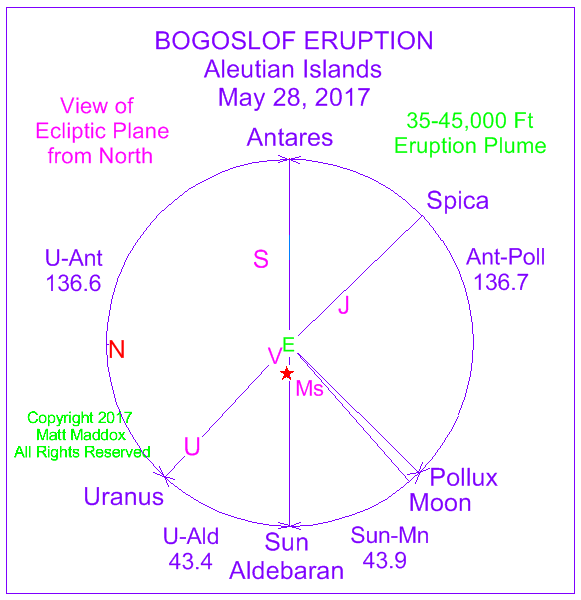 BOGOSLOF ERUPTION MAY 28, 2017
Aleutian Islands, Alaska
This pattern is simply a reinforcement of the pre-existing stellar K pattern described at the bottom of this page. Uranus was opposite Spica, the Sun lined up with Aldebaran and the Moon was in close proximity to Pollux.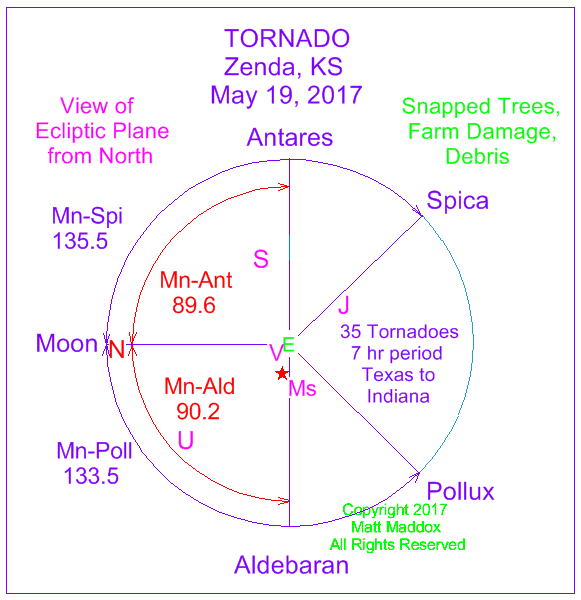 TORNADOES MAY 19, 2017
Texas to Indiana
Note the symmetric Moon-Star symmetry associated with this multi-tornado event. There were 35 tornadoes linked to this particular astronomical pattern. Venus and Jupiter were still opposed at 179.6 degrees on this date. KWCH12 reported the snapped trees and debris.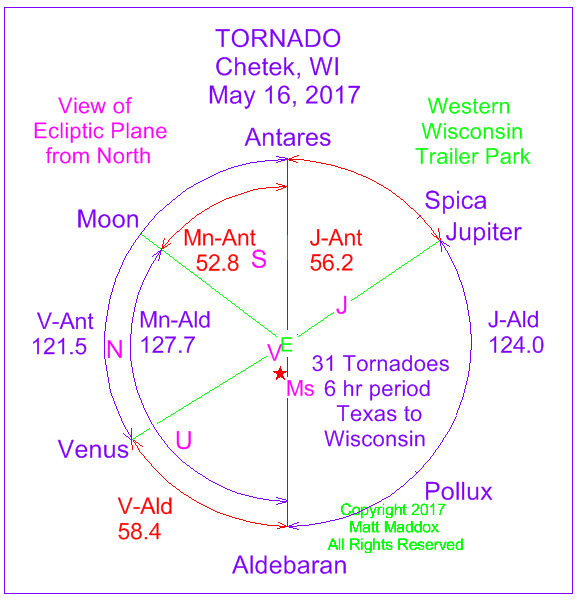 TORNADOES MAY 16, 2017
Texas to Wisconsin
31 tornadoes hit from Texas all the way to Wisconsin in just a SIX HOUR PERIOD! Venus and Jupiter were opposed during this time and on the afternoon of the 16th, the Moon set up a temporary symmetry with both Venus and Jupiter. Please note the following occurence pattern:
| | | |
| --- | --- | --- |
| Date | UTC | Tornadoes |
| 05/15 | 2347 | 1 |
| 05/16 | 1945- | 31 |
| 05/17 | 0148 | |
| 05/17 | 1910- | 5 |
| | 2120 | |
| 05/18 | 1902- | 15 |
| | 2331 | |
Table uploaded 2017/05/19 0010 UTC
Note the tornadoes fire up at about the same time each day. The central time zone was pointing approximately toward the same point in space for each episode.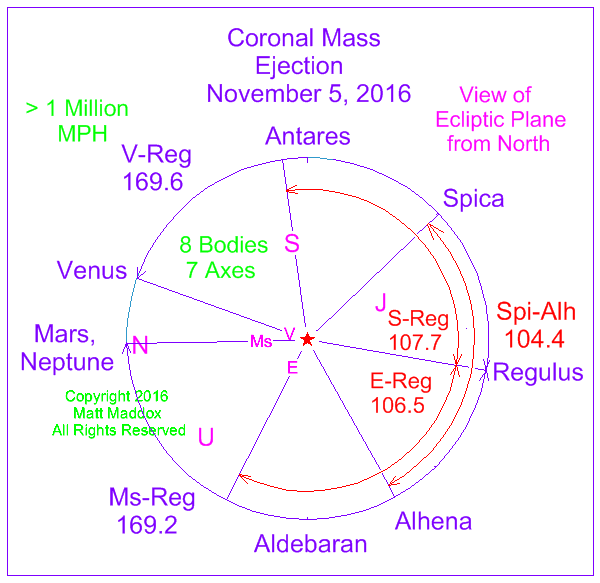 Energetic Solar Event Predicted
for November 5, 2016
Coronal Mass Ejection Exits Sun
at >1 Million MPH
A Coronal Mass Ejection - CME - exited the Sun on November 5, 2016 at ~0400 UTC. A flare or CME had been predicted for 1830 UTC. A Septet of axes had developed just at that time. There were 8 bodies on 7 axes. And the Mars-Neptune angular separation was just 0.9 degrees.
A symmetric pattern had developed with the geometry centered on Regulus - a rapid rotator star 77 light years distant.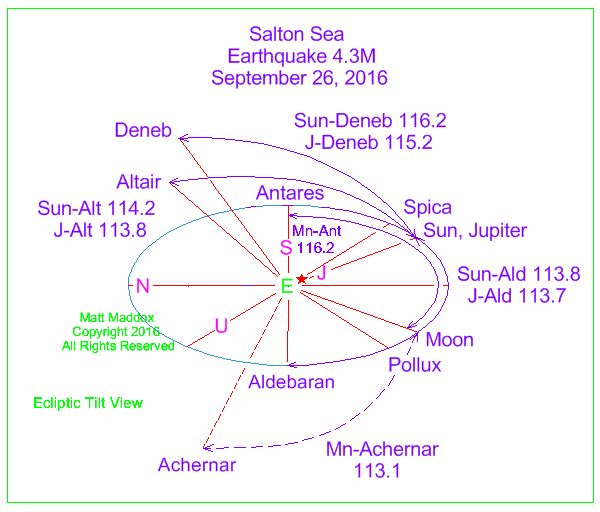 SALTON SEA EARTHQUAKE
Richter Magnitude 4.3
September 26, 2016
Note the Double K pattern within the ecliptic (Sun-Earth) plane.
It turns out that Jupiter was very nearly in this same position for the historic 1815 Tambora volcanic eruption. In this case, both Sun and Jupiter are on an axis which sets up 3-dimensional symmetry with extra-ecliptic stars.
The Moon is also on an axis that has the same result. Saturn was on this same axis, but at a point opposite in the sky for the huge Tambora eruption!
Please view the Tambora diagram near the bottom of this page.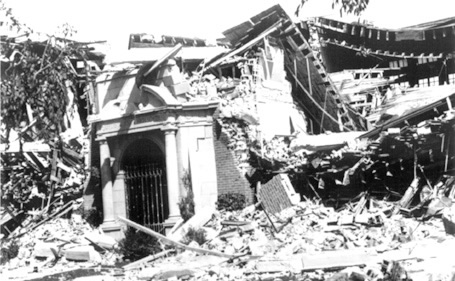 Jefferson Junior High School in Long Beach, California,
destroyed by the March 11, 1933 earthquake USGS Photo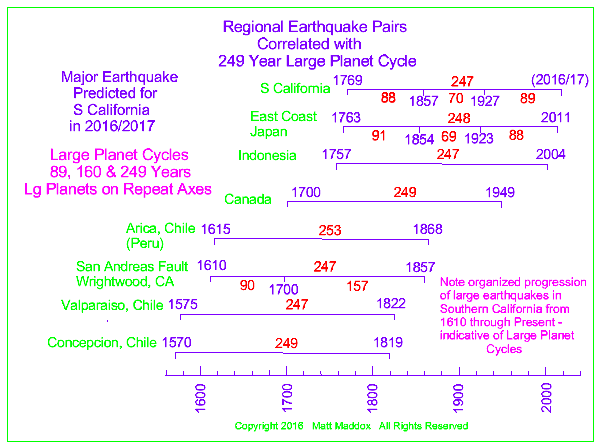 SOUTHERN CALIFORNIA EARTHQUAKE
Predicted 2016-2017
Uploaded 07/14/2016
0008 UTC

Wood-frame building in Long Beach, California destroyed
by the March 11, 1933 earthquake USGS Photo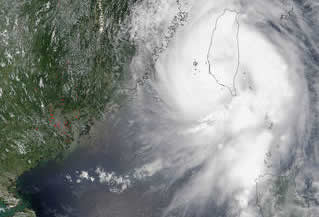 2016-07-08 0310 UTC Nepartak
NASA Goddard MODIS Rapid Response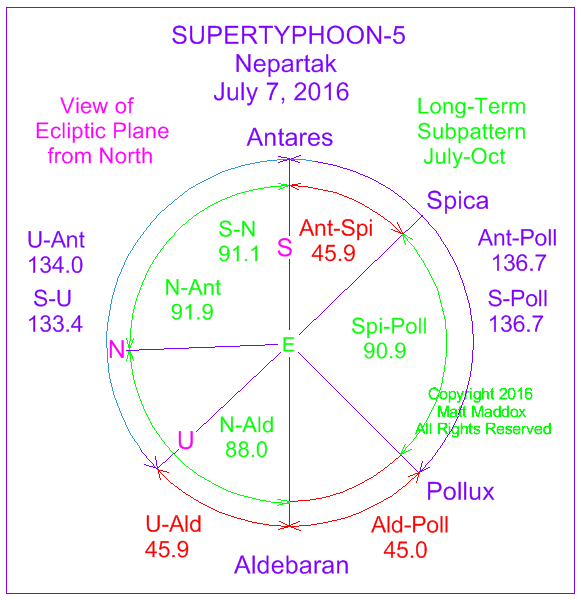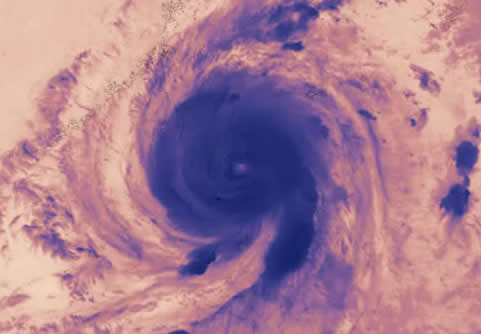 2016-07-07 1745 UTC Nepartak
NASA Goddard MODIS Rapid Response

EF4 OK Tornado
Wynnewood, OK
May 9, 2016
Note the Triple K subpattern associated with this powerful twister in south central Oklahoma. The Sun and Mercury were symmetrically opposite the Moon for this awesome storm. Mercury was in the inferior position relative to the Sun and was only 0.4 degrees from the Sun. Inferior means an alignment of Sun-Body-Earth.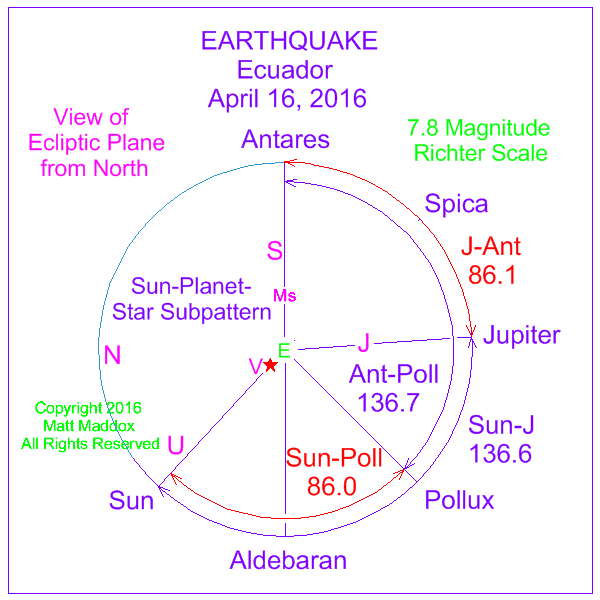 ECUADOR EARTHQUAKE
April 16, 2016
7.8 Magnitude
Note the Sun-J angular separation which is almost exactly equal to the long-term Antares-Pollux angle!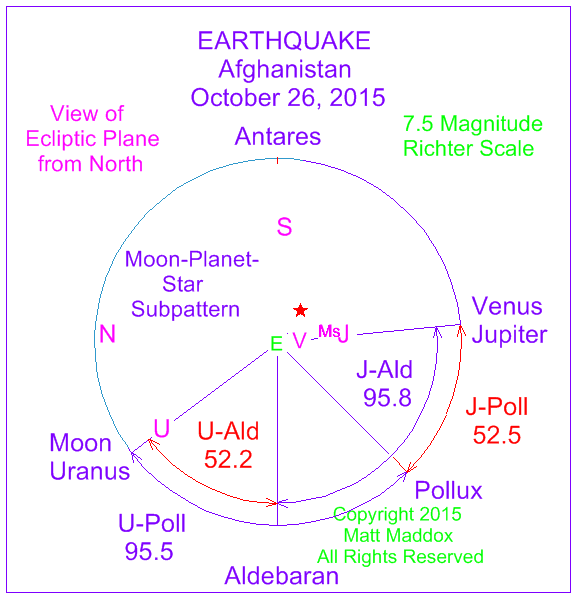 NE AFGHANISTAN EARTHQUAKE
October 26, 2015
7.5 Magnitude
The key subpattern for this event was a tetrad composed of Moon-Uranus, Aldebaran, Pollux and Venus-Jupiter.
Symmetries involving Pollux are often associated with geological events.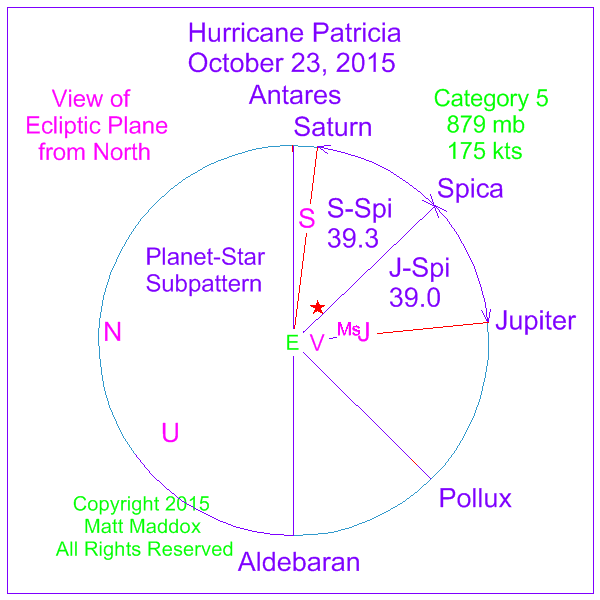 HURRICANE PATRICIA
October 23, 2015
Category 5 Storm
Note the obvious symmetry of Jupiter and Saturn with the ecliptic star Spica. Symmetry with this star is often associated with weather events.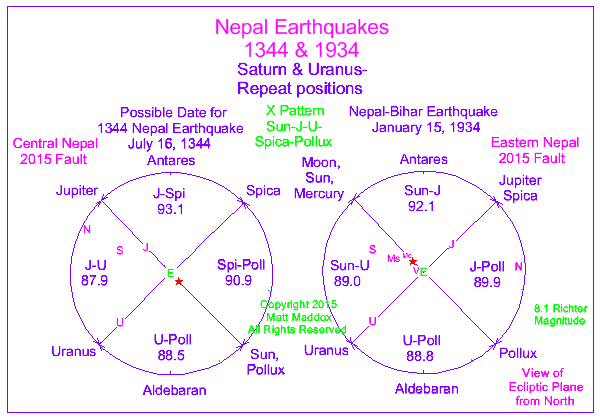 Repeat Patterns Possible for
Saturn & Uranus in
1344 & 1934
Nepal Earthquakes
1344 is a commonly accepted Carbon-14 date for a large rupture in the Nepal Himalayas. A date was found - July 16 - on which both Saturn and Uranus exhibited repeat positions compared to the 1934 known date earthquake. Further, the Sun was on the same axis for both dates, but at opposite points in the sky.
Note the mirror-image position for Jupiter in both earthquakes.
Please note that the ruptures which occurred ~590 years apart were on adjacent portions of the same fault - the Himalayan Main Thrust Fault.
<<<The repeat pattern for Saturn and Uranus is strong evidence that astronomical patterns control the timing and occurence of earthquakes!>>>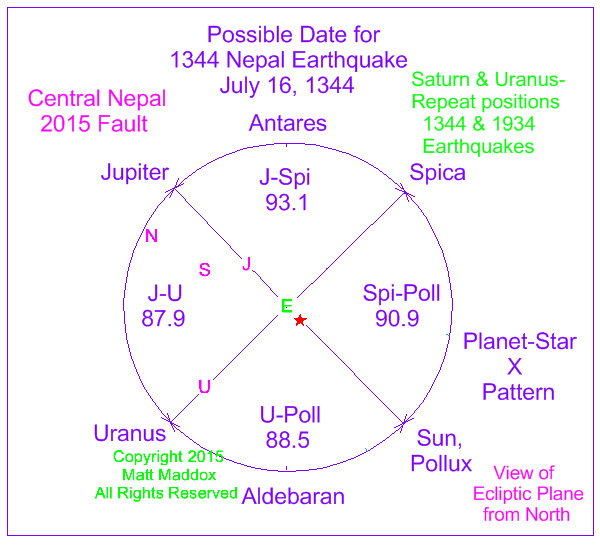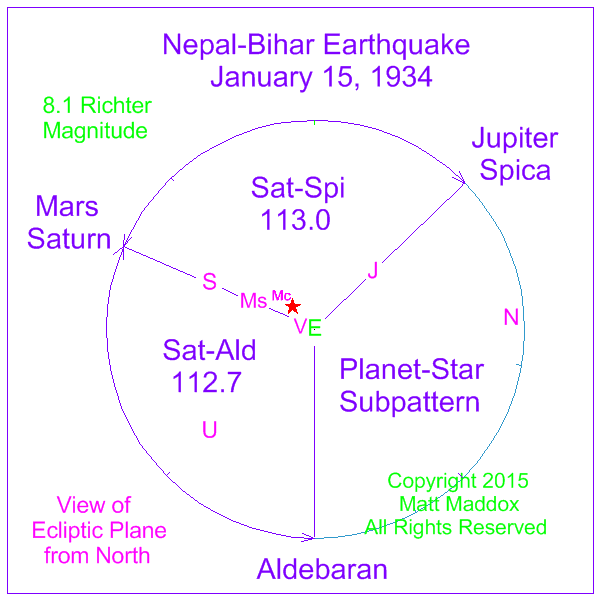 NEPAL-BIHAR EARTHQUAKE
January 15, 1934
A triad of axes is associated with this major event from 1934. Both Mars and Saturn appear at the midpoint between Aldebaran and Jupiter-Spica. Please compare to the 2015 Nepal earthquake in which Saturn and Uranus are symmetric with Aldebaran and Spica- a tetrad instead of a triad.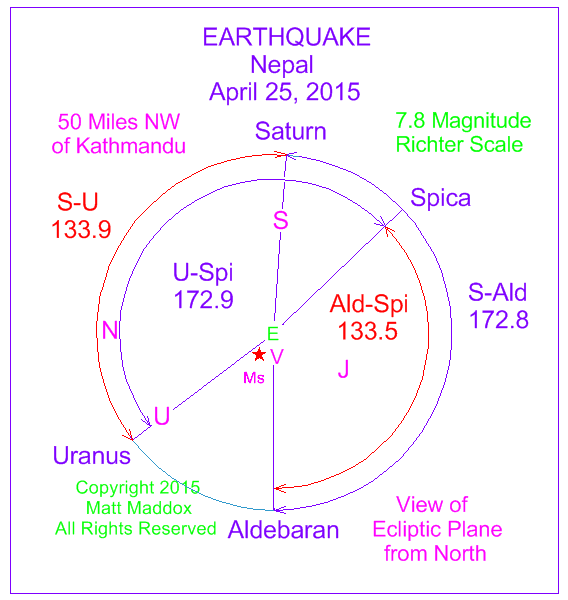 EARTHQUAKE 7.8 MAGNITUDE
Kathmandu, Nepal
April 25, 2015
This earthquake shows a planet-star symmetry composed of Saturn, Uranus, Aldebaran and Spica. The 1934 Nepal-Bihar 8.1 magnitude quake also exhibited Aldebaran-Spica symmetry with Mars-Saturn splitting the Star-Star angle.
The 1934 earthquake had 9 angles ranging from 132.4 to 136.8 degrees when looking at Sun, Moon, Planets (except Pluto) and six ecliptic stars shown at the bottom of this page. In comparison, the 2015 quake had 8 angles within this range.

HISTORIC FLOODING
Houston, Tx
May 26, 2015
Please view the diagram of the ecliptic K-structure at the very bottom of this page. This K-structure is composed of four stars within the Sun-Earth plane.
Five different Solar System bodies compliment this pre-existent K structure: Neptune, Mercury, Sun, Mars and Moon. Together they comprise a split K with reinforced backbone.
Gravitational energy from all these bodies work in concert to affect the Earth's core and mantle. Electromagnetic energy from ongoing nuclear decay within the Earth is channeled toward the Earth's surface to produce an intense electromagnetic disturbance(EMD). The EMD then triggers storms and rainfall since water is susceptible to magnetic fields.
Please note the agreement of the May 24, 2015 0700 UTC date and time generalized Earth Events prediction with the record rainfall in Wimberley, Texas. This same pattern was in effect for this awesome Hill Country event, with the exception that the Moon set up a Moon-Jupiter symmetry with Spica and Mars-Aldebaran. KXAN reported that the water flow was 223,000 cubic feet per second - 2.5 times the flow of Niagara Falls!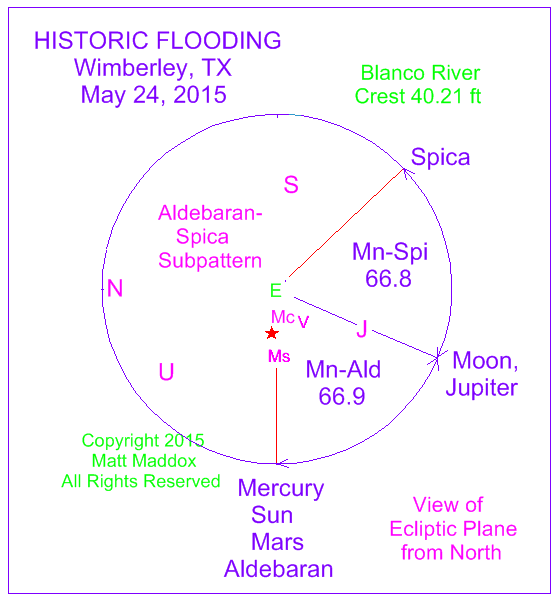 CENTRAL TEXAS FLOODING
Blanco River Crest
May 24, 2015
This is a symmetric subpattern right at the time of the Blanco River Crest. The contributing bodies form a triad of axes which includes Aldebaran and Spica. Triads and Tetrads including these two stars are frequently associated with weather events.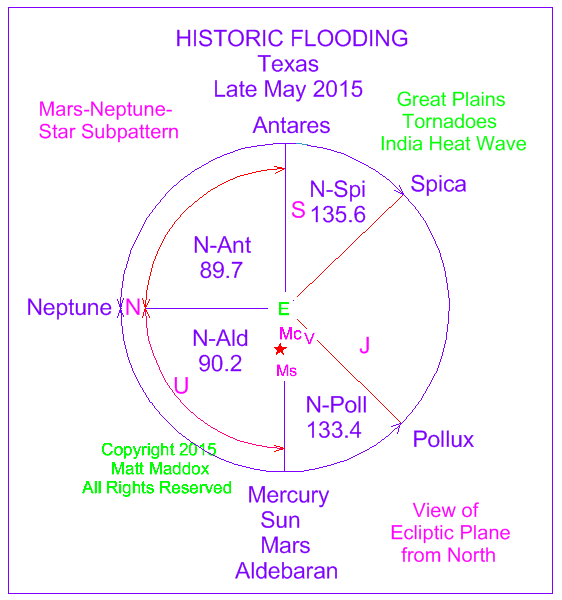 Texas Floods, Great Plains Tornadoes,
India Heat Wave
Late May 2015
An underlying mirror-image astronomical subpattern was associated with numerous late May 2015 weather events. Texas Floods, Great Plains Tornadoes and a heat wave in India all had a Mars-Neptune-Ecliptic Star symmetric subpattern in common.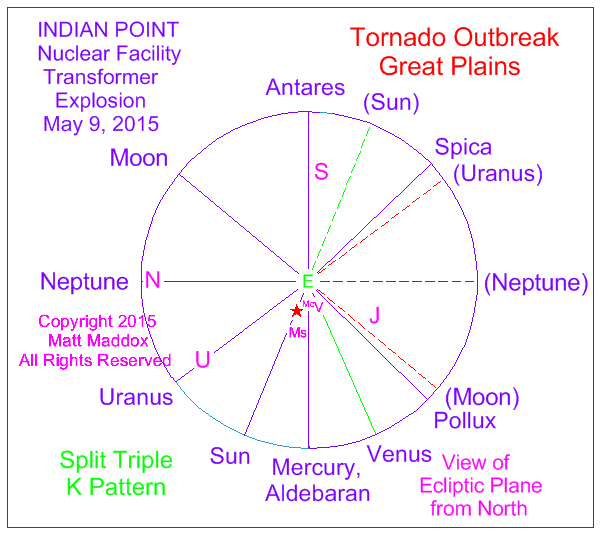 INDIAN POINT TRANSFORMER EXPLOSION
GREAT PLAINS TORNADO OUTBREAK
May 9, 2015
Note the split triple K pattern associated with these events. There was a large tornado near Mangum, Texas within about 5 minutes of the transformer explosion in New York state. The geocentric symmetries produce electromagnetic disturbances which can result in tornadoes, fires and aviation accidents.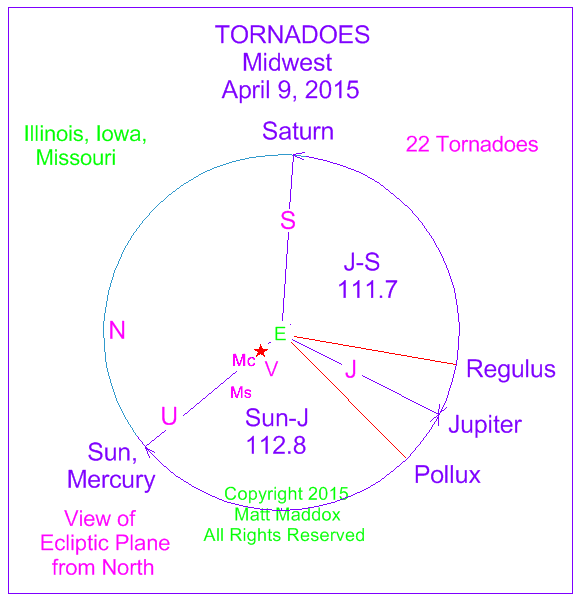 MIDWEST TORNADOES
April 9, 2015
Note the Sun-Jupiter-Saturn symmetry relative to Earth on this date. This Sun-Large Planet subpattern is also symmetric with two stars - Regulus and Pollux. For an interesting comparison, please view the Great Bend, Kansas tornado diagram near the bottom of the tornado page.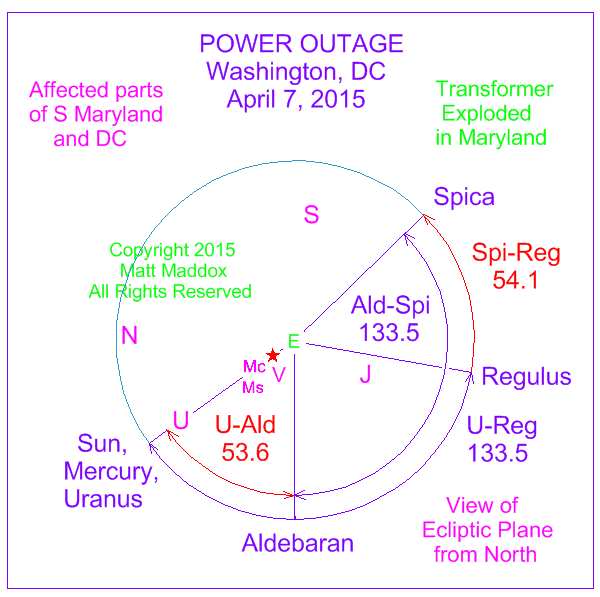 WASHINGTON DC
Power Outage
April 7, 2015
This power outage affected parts of S Maryland and Washington DC. Note that Uranus and Mercury are roughly in line with the Sun. A tetrad of axes forms a symmetric subpattern. The tetrad is Spica, Regulus, Aldebaran and Sun-Mercury-Uranus.
The symmetric gravitational fields from this subpattern plus several others combine to affect the Earth's core and indirectly produces a point-specific electromagnetic disturbance at the Earth's surface. In this case, the disturbance results in a fire at a large transformer in Maryland and subsequent disruption of electrical service in parts of the S Maryland/DC area.